Yes, on the checkout page, after filling out the receipt information below Paypal Quick Payment, jump to the next page to choose other payment methods.
We can use 22 payment methods such as credit cards
Gamakay has never launched MK61 pro and Womier K61 K66 K87 are counterfeit by some unscrupulous merchant, not our brand products. Recently, many people have reported to us that there are a lot of problems when buying their products, they caused you products The problem leads to a bad purchase experience. We are deeply sorry. We hope that people who see it can spread it to other friends, and don't let more people suffer.
For in-stock pducts, your oder will be shipped within 1-3 working days. once your parcel is shipped:


For Standard Shipping, about 6-15 days for items to be delivered after it is shipped. For some countries, it might take up to 16-25 days, depending on your country and its custom procedure.


For Express Shipping, it takes about 3-7 days for items to be delivered after shipping out.


*Note: Shipping period might be affected due to festive seasons or other unforeseen circumstances.
We are generally able to ship to most countries via DHL Express, and many countries via Standard Shipping. You may clarify with our team to see whether Standard Shipping is available to your country.
Note: For the country of EU countries, we can only do Standard Shipping.
Specifications:

Brand: GamaKay
Model: TK68
Color: grey+white
Connection: bluetooth 5.0 + 2.4 Ghz + Type-C wired
Switch: Gateron Switch (Brown Switch, Red Switch, Blue Switch, Silver Switch, Yellow Switch)
Keys Number: 68 Keys
Keycaps Material: PBT
Profile: grey+white: XDA profile / black+beige: ASA profile
Printing Method: XDA Profile: Sublimation / ASA Profile: Double Shot
Backlight: RGB Backlight
Interface: Type-C USB 3.1
Battery: Built in 1900 mAh Rechargeable Li-ion Battery
Supported system: for Mac OS / IOS / Windows 7 / 8 / 10

Features:

1. 68 keys keyboard, compact size and easy to carry out
2. 3 connection modes: bluetooth 5.0 + 2.4 Ghz + Type-C wired with receiver, widely applications
3. XDA/ASA profile, PBT keycaps
4. Built-in 1900mAh rechargeable lithium battery, can be used in backlight mode for 6 hours or 24 hours without backlight
5. All keys hot-swappable, support 3pin or 5pin mechanical switches, plug and change, switch DIY, and compatible with 90% mechanical switches on the market
6. Gateron switch, feels comfortable and stable
7. Detachable cable, Type-C USB 3.1 interface, plug and play

Package in:

1 x TK68 Mechanical Keyboard
1 x 2.4GHz receiver
1 x Keycap puller
1 x Switch puller
1 x Type-C charging cable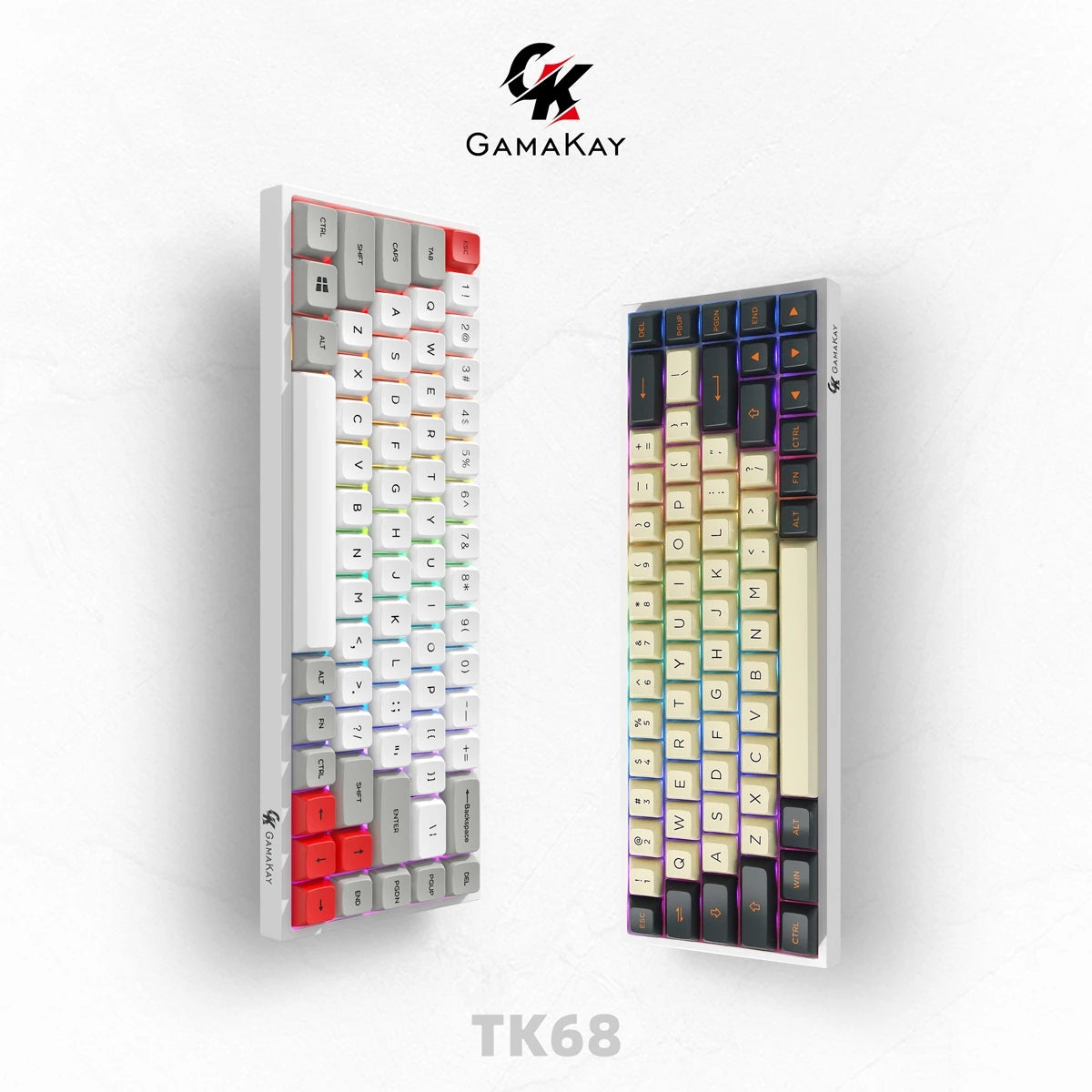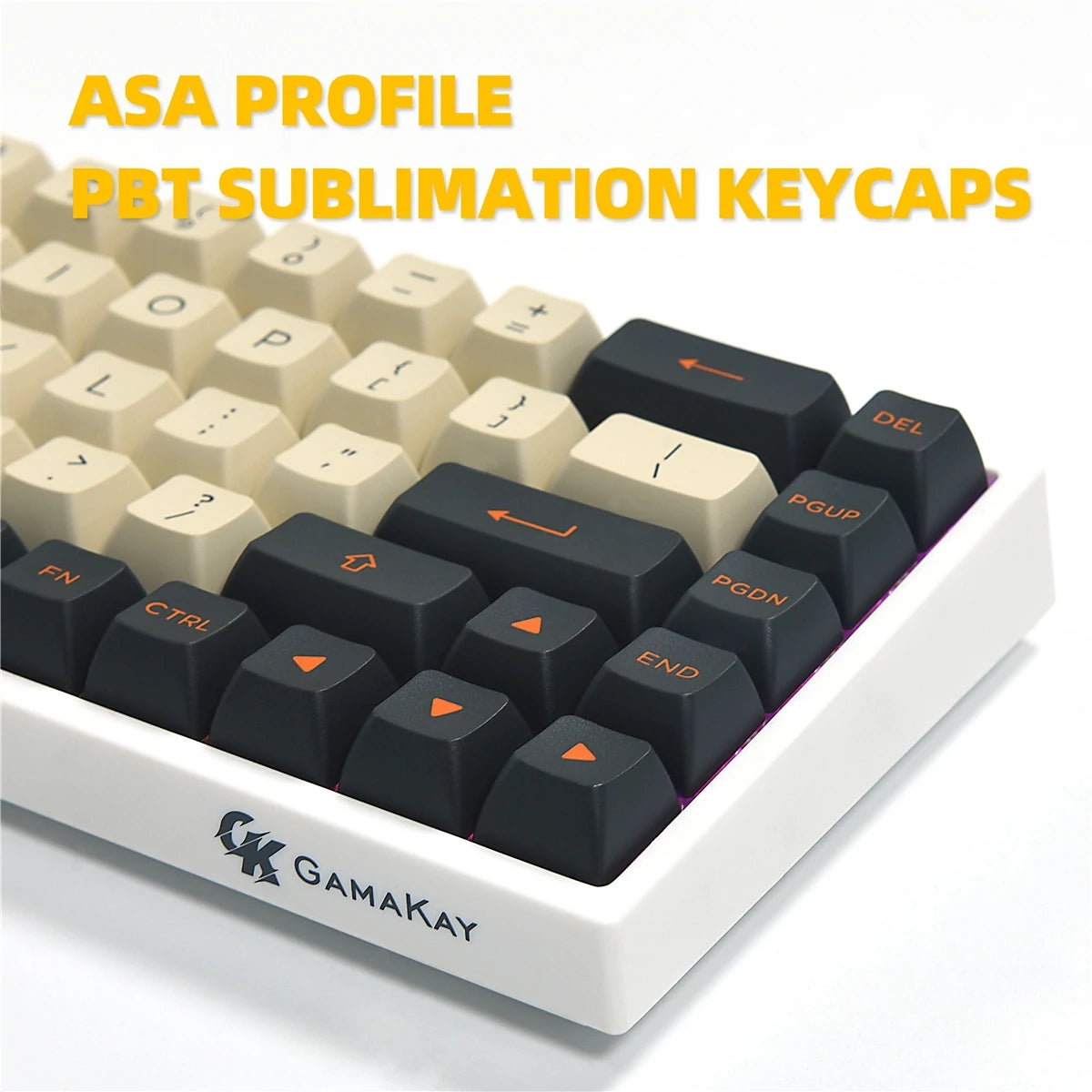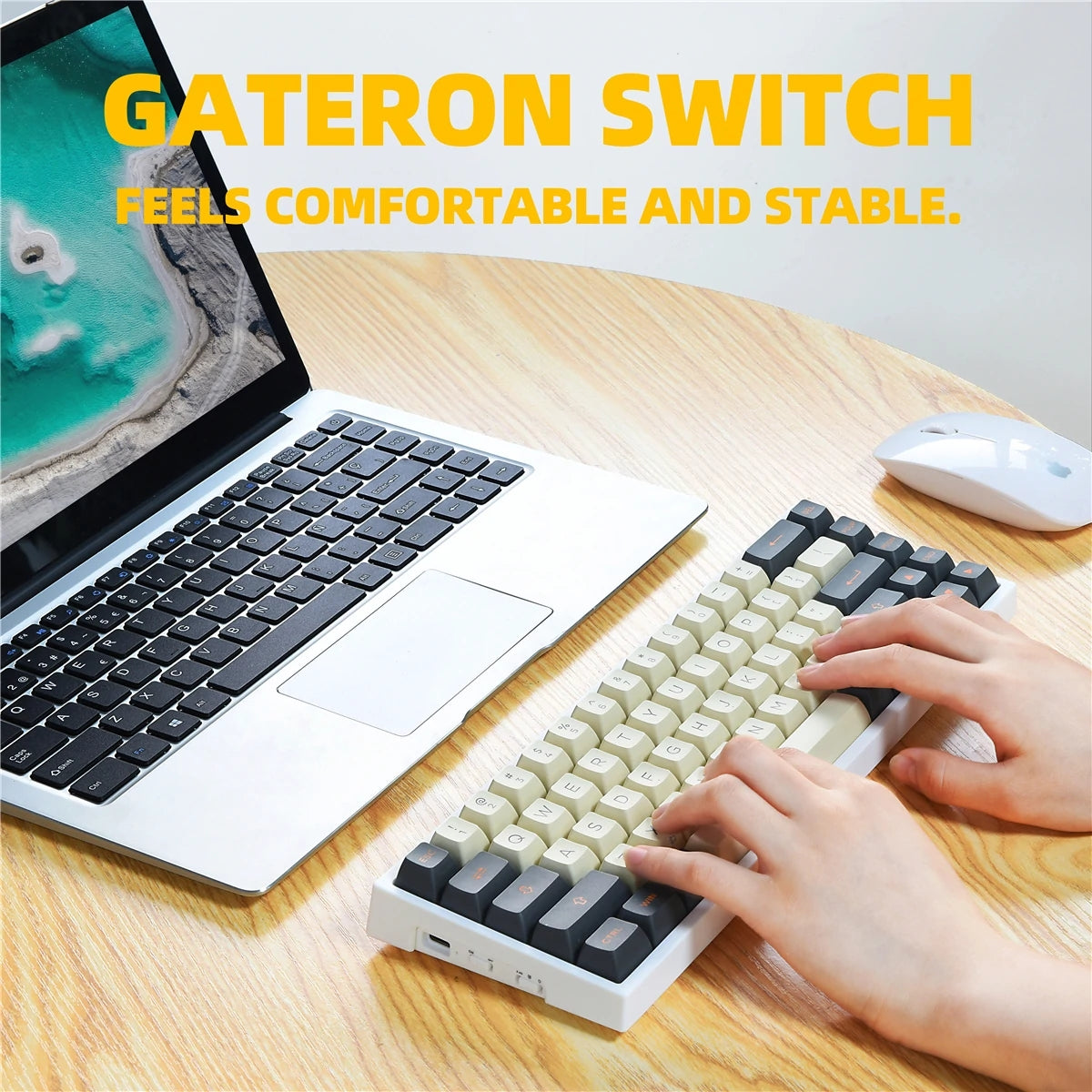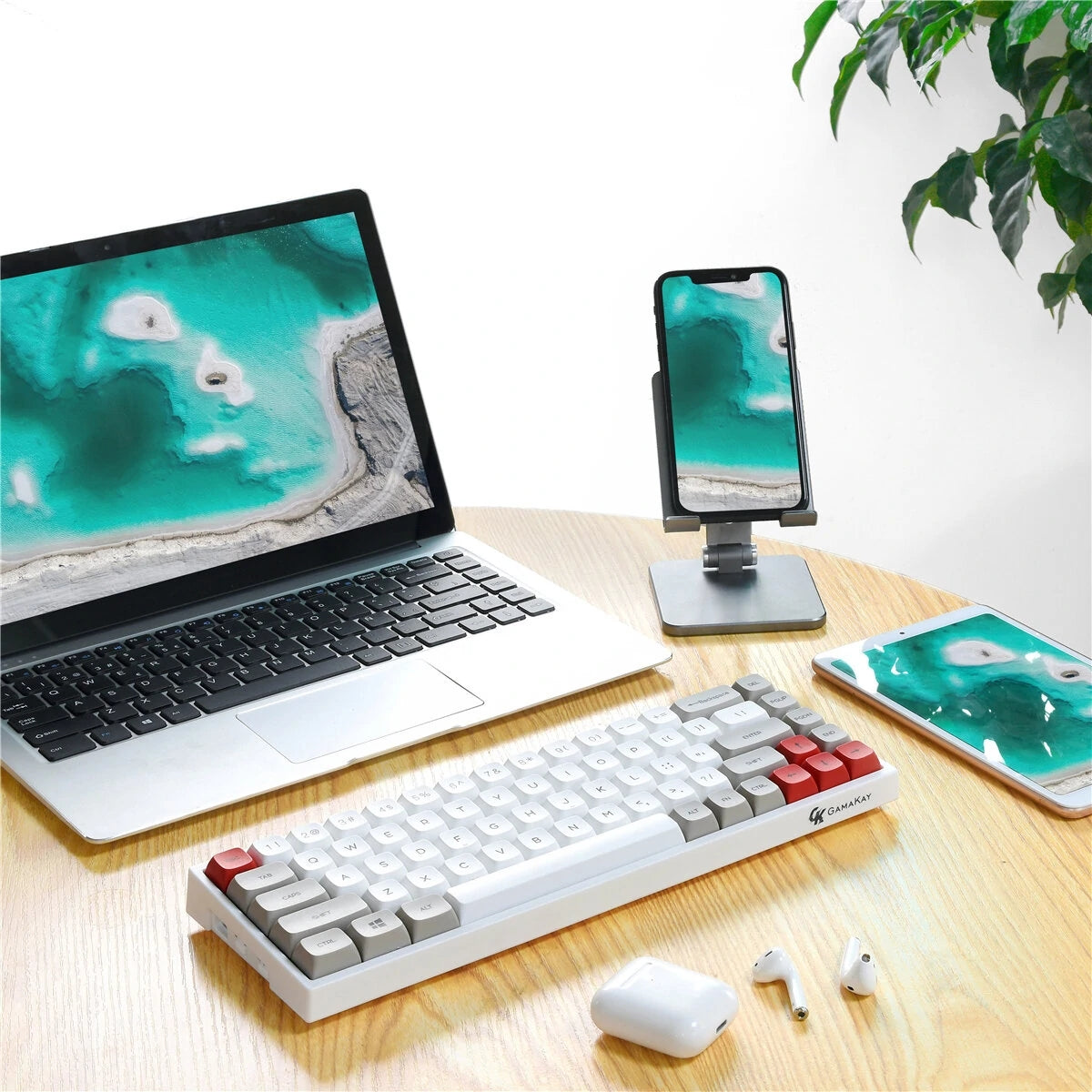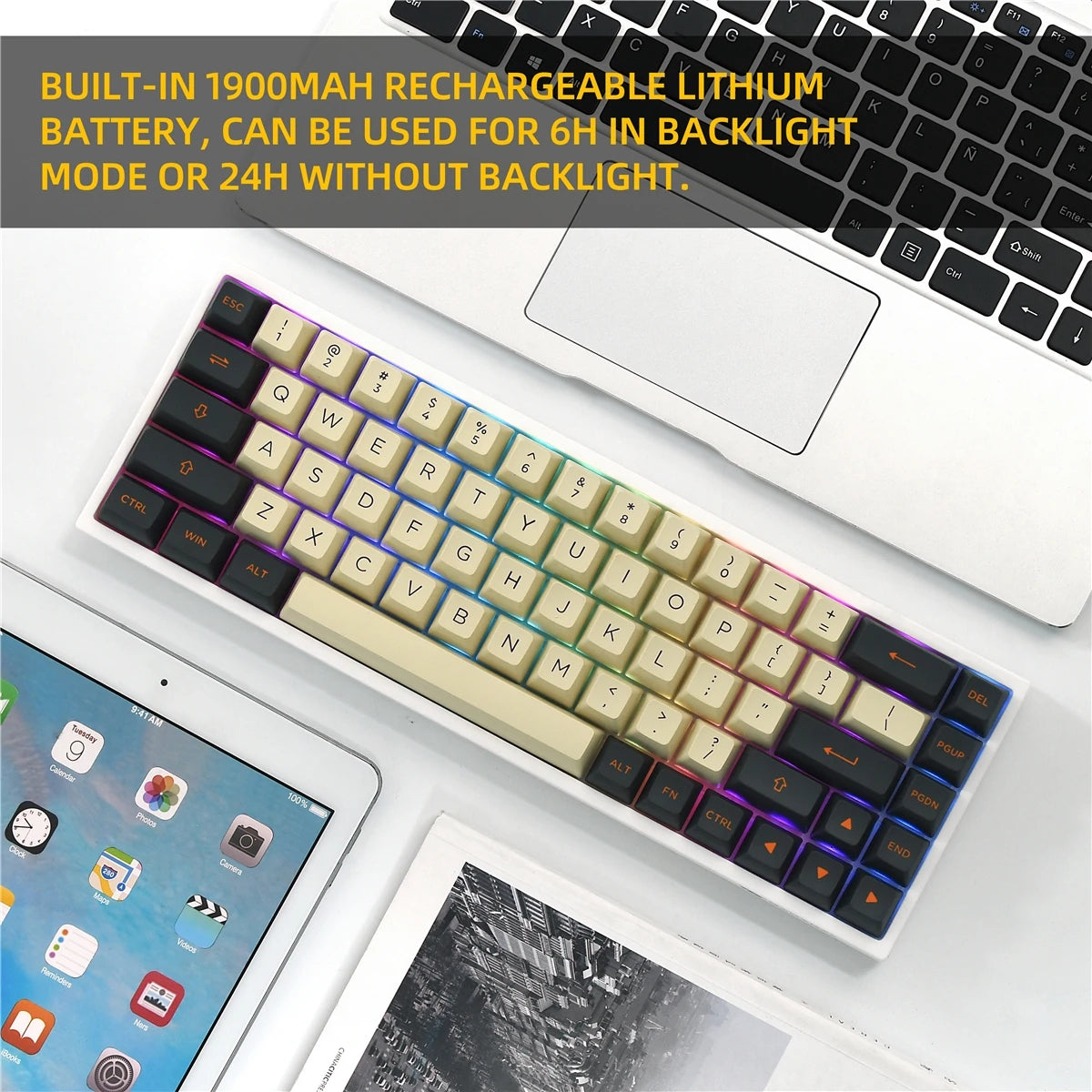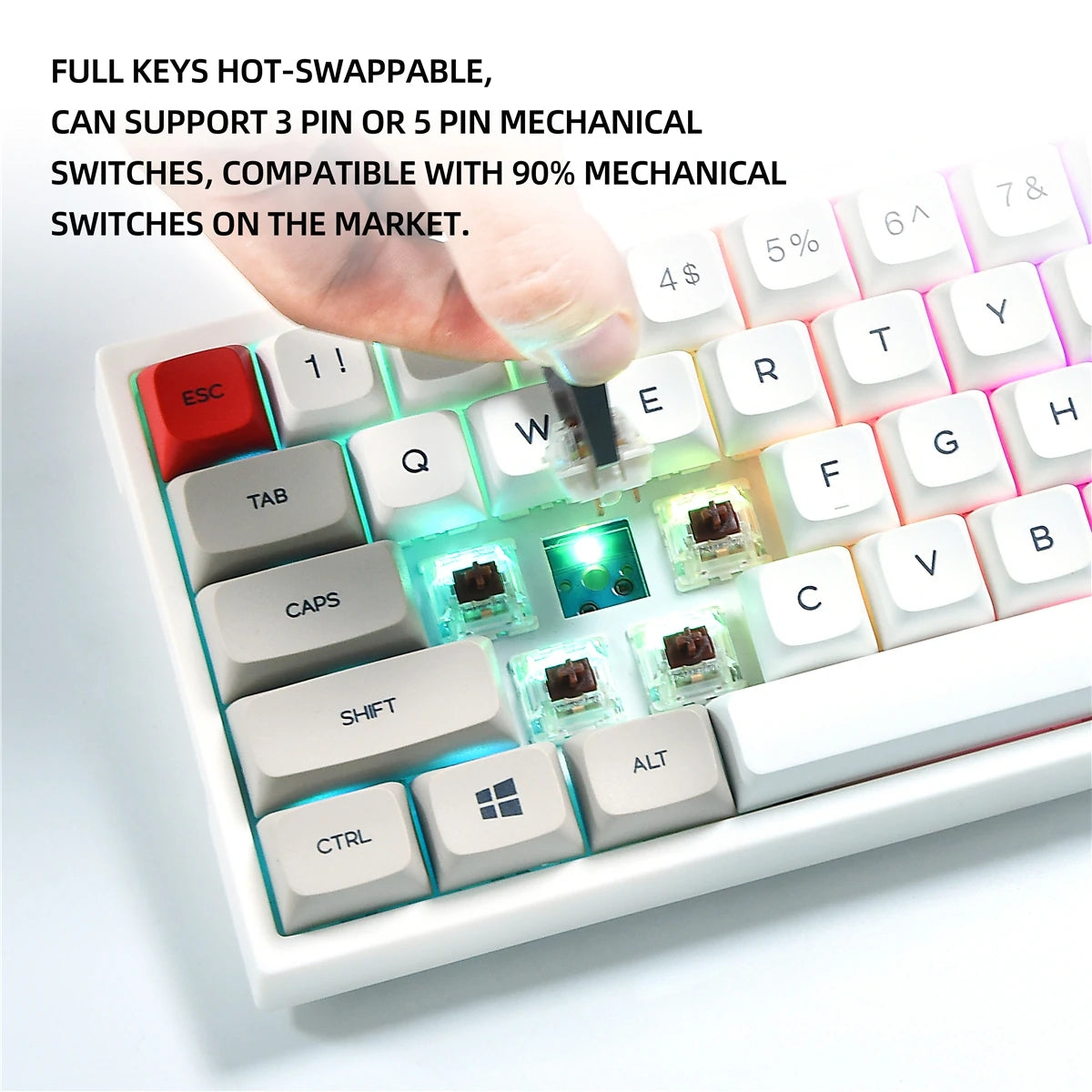 Great For the Price
Overall build quality is great. Keycaps look good, but are a little thin. The rgb is faintly visible though the keycaps themselves. The rgb is pretty good, though I couldn't get the software to work, the presets are good enough for me. The yellow switches I got were super smooth (though not perfectly consistent) without any modification, and the stabilizers all sounded okay other than the left shift, which has some rattle. 
2.4ghz wireless works flawlessly the few times I've used it, and the wired connection is great and what I use most of the time. Connecting to multiple devices with bluetooth is a hassle, but I'm sure I just don't fully understand how to use it correctly, as I've heard other people use it with great success. I did also have an issue using Monkey Type on my phone connected to the keyboard via bluetooth. The first letter of each test(about 50% of the time) would be counted as incorrect only once the word was completed. This could be an issue with the keyboard, the phone, or the website, as when typing on a document there is no issue. I haven't tested battery life because I'm not a big wireless user.
Overall this is a great keyboard to either leave stock or modify, would absolutely recommend.
Thank you for rating us! We have received your opinion on us, and we will definitely improve it in the future! Looking forward to your next visit
Grat little keyboard!
I really love how this keyboard looks, feels, and sounds! The software could be better tho.
Thank you for your love of our brand! thank you for your comment! Looking forward to your next visit
Gamakay TK68 65% Triple Mode RGB Mechanical Gaming Keyboard with XDA Profile PBT Keycaps
Thanks for your comment! Thank you for supporting Gamakay
Nice keyboard
I am a beginner in the world of mechanical keyboards, but i am very satisfied! Exactly what I needed